The Rocking R Rancho, Joshua Tree, CA http:www.norseenterprises.com/rancho.html
Breathtaking views, surrounded by the most dramatic rock formations in the western United States, Joshua Tree, and the Joshua Tree National Park.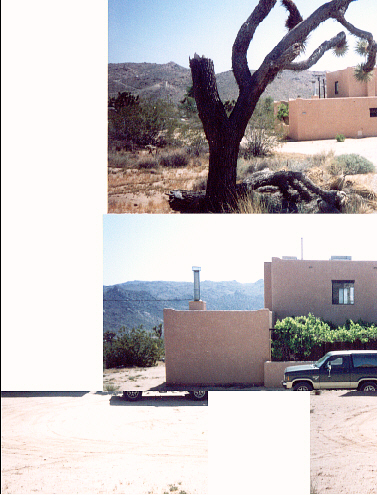 Just a short 2 1/2 hours from Los Angeles or San Diego, and 1 1/2 hours from Orange County, this pristine but awesome area of the high desert, only 45 minutes from Palm Springs, offers cooler summer days and nights, beautiful flowers, and historic sites of the old West. Ron and Pat Johnston have a Santa Fe Style pueblo situated on four acres, overlooking the National Park and the Morongo Valley, designed with comfort in mind, with all of the amenities of a fine home, but with a western flair, both inside and out.
The Nights are crisp and comfortable, sitting on the second floor deck, with a view across the valley, and the Mexican "Chimminea" provides just enough warmth to take the bite out of the afternoon breeze. Road Runners and quail join in harmony with the local coyote population to offer a nightly opera.
When you come inside to enjoy dinner and or a cocktail, you are surrounded by western art, collected by Ron and Pat over twenty years, touring and enjoying the southwest. There is a southwestern fireplace in the living room for those spring and fall nights, when the air gets a little chill in it, and air conditioning and swamp cooler for the summer days. It is an ideal retreat for a writer or an artist who wants a new environment to spark their creative juices. The house hosts two bedrooms with queen sized beds, a living room and dining area, two baths an entertainment area, a courtyard covered in grape vines, and a large deck. For information and availability, call Ron or Pat at: 619-220-0920, or their rental agent, at:
800-366-1444.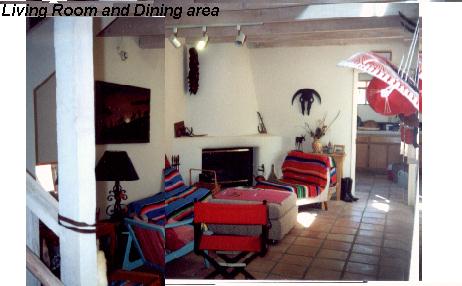 The Living Room and dining area, for inside dining
The Master and Guest Bedrooms are each comfortable, very western style rooms, with an individual flavor that is unique in each. Ansel Adams and Kachinas on one room and David Redbird and Roy Rogers in the other.